Fix for Master Layout where proportional to Section Width was not working.
Don't forget to select the Height From Master button when using the master layout feature.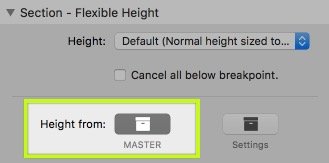 New
Sections Background Video now supports custom timer triggers ready for Animate Pro
You can trigger events at two separate time stamps in the video
You can trigger events when the video ends
All triggers are actual time stamps and not delays so cope with the video being paused and re-started.